How did the word dinox appear, where did it all begin
Dinox Tech is not just a random name and the story of this brand began 16 years ago. I will tell the story of the birth of Dinox Tech from the first person, as it is my story. It took 16 years to understand that experience is the most valuable thing that can be gained through trial and error, and so on and so forth :)
2005
After gaining stable internet access, I became a regular internet user. During my first visits to Google, Rambler, etc. and the popularity of thematic forums at that time, there was a need to choose a nickname for its use on forums. The word "dinox" came from the transformation of the word "Linux", although at first glance these are not very similar words, it was decided to check how many results would come up in Google search query with the word "dinox". It turned out to be a very rare word at that time, so I decided to use this nickname. Year 2005 was a year of internet mastering and the beginning of IT technology enthusiasm.
2006
The beginning of understanding that websites work on something sometimes uniform and it is probably something similar to Windows only for websites, and the active search for ways to understand what a website is, what it is created from and a variety of technological solutions for this. I started learning PHP, HTML, CSS, researching various CMS for creating websites. The active interest in web development began, initially with social projects. It all happened at the beginning of the Joomla (Joostina), WordPress, Drupal, and other CMS era that exist today.
2007
During the two years of 2006-2007, the process of mastering technologies took place, and in August 2007, the decision was made to register a legal entity to carry out commercial orders. The studio was created under the brand name webplaneta.com.ua, which has since been reformed into Dinox Tech. The first commercial projects were developed using the CMS Joomla, but it became clear that there was a lack of quality website layout not only for Joomla, so the service of website layout and design adaptation from PSD layouts was started on various CMS platforms, including WordPress, ShopCMS, Drupal, MoDx, and Joomla.
2008
Active growth in the number of orders formed a clear understanding that the overall quality of services in the market among other freelancers and studios was low, and very few companies were truly willing to do a good job and write clean code. It was decided to focus on standardizing developments, and the year was dedicated to improving the code.
2009
The era of online stores began, and most clients realized the need to develop the internet direction as a sales channel. CMS for creating PrestaShop and Shop-Script stores gained popularity, and it was decided to work with these systems due to increased demand. Work was also done with the Virtuemart component for Joomla, which added e-commerce functionality to Joomla websites. There was a clear understanding that E-commerce had huge prospects.
2010
This was a year of global changes and a focus on E-commerce as the main vector of development. The appearance of OpenCart completely changed the perception of developing online stores, and it was the first CMS that made it clear that CMS architecture could be convenient, flexible, fast, and really protected from hacker attacks, and with the right configuration and modification, could withstand large loads. 50% of projects in 2010 were done on OpenCart.
2011
Active participation in the https://opencartforum.com/ project and joining the community team, as well as starting to work on the development of a localized version of OpenCart called https://ocstore.com/ for the CIS countries. On the forum, I am using the same nickname, Dinox. Due to the desire to work and develop in a quieter city, a decision was made to move from Kiev to Konotop, Sumy region.
2012
The year was devoted entirely to community administration on https://opencartforum.com/, expanding the forum's functionality, and honing skills in working on projects developed on ocStore and OpenCart (95% of projects were done on these platforms). Demand for creating online stores was increasing in society.
2013
The first employees appeared in the WebPlaneta studio, which relieved me as the founder of the WebPlaneta studio, and I paid more attention to management activities in the OpenCartForum, ocStore, and WebPlaneta projects. Projects developed in previous years on platforms other than OpenCart started to change to other CMS or the owners were unable to achieve good results on their websites.
2014
A year that passed in the atmosphere of decline due to the political and economic situation in Ukraine throughout 2014. Many online stores and websites ceased to exist during this period, so most of the projects developed by the WebPlaneta studio in previous years disappeared, including those on OpenCart.
2015
Due to the decision not to personally engage in development and the desire to focus on management, the WebPlaneta studio was put on hold, and a decision was made to create a new company together with a business partner under the name Grodas. Experience gained in previous years was used for training and managing the Grodas company.
2016-2019
These were the years of active growth for Grodas, both in quantitative and qualitative indicators. The IT cluster was established in the city of Konotop, along with increased social activity and the creation of a tea lovers club, among other projects aimed at developing society in Konotop.
2020
With the outbreak of the coronavirus pandemic, many questions arose about whether I had chosen the right direction for my personal development and whether it was appropriate to continue my path with Grodas. Ultimately, I decided to step down from my position as CEO of Grodas. During my time with the company, I gained valuable experience in management and in streamlining IT company processes. After leaving Grodas, I founded Turbohost, a hosting company whose goal is to provide truly high-quality services for projects that require speed, stability, and efficiency in internet operations. This project marked the beginning of a new era of microservices, which will be developed under various brands to serve a wide range of needs.
2021
This was a turning point year for me, where I realized that the knowledge I had gathered over 16 years on the internet was worth sharing with the world. The situation in 2009, where there were many studios providing poor quality services and sometimes even grossly incompetent, had not improved much. That's why I decided to gather all my knowledge, resources, and team to create a new company, Dinox Tech, and continue to provide high-quality services to those who require up-to-date IT solutions for the development of our clients' and partners' businesses. Each of you can recall your own story and how your business began.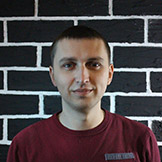 Those who strive for development must keep moving forward! Waiting for something to happen is not the best tactic.
Regards, Oleksandr Rebrov